Syria 'friends' to pay salaries of rebels fighting Assad
(Read article summary)
Saudi Arabia and other Gulf nations are setting up a fund to pay members of the Free Syrian Army as part of a larger international commitment.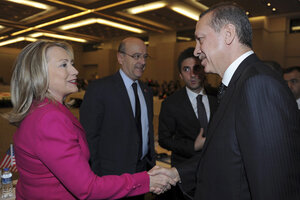 Yasin Bulbul/Prime Minister's Press Office/REUTERS
The Syrian opposition received one of its biggest boosts yet when the US, Britain, and several Arab nations pledged millions of dollars in support and equipment at a meeting of international supporters in Istanbul yesterday.
One pledge that may prove particularly significant comes from Saudi Arabia and other Gulf nations that have agreed to set up a fund to pay salaries to the rebel Free Syria Army, Al Jazeera reports. The fund is seen as a means of encouraging more soldiers to defect from government forces and join the rebels.
The fund pushes the international community closer to an intervention in Syria, but it has stopped short of providing direct military assistance. Rebels say the additional funding and supplies will no doubt help, but they have also been outspoken in their need for more weapons and ammunition, without which they say they cannot topple the Syrian regime.
"What is clear to us is that only fighting can make this regime leave," said Mohammed al-Said, a Syrian activist in Douma, northwest of Damascus in an interview with Al Jazeera.
---