North Korea threat: China reaches out to agitated Pyongyang
(Read article summary)
North Korea threat: Washington says it has traced the sale of truck parts North Korea used to transport missiles to a Chinese company. Is Beijing not fully enforcing sanctions on North Korea?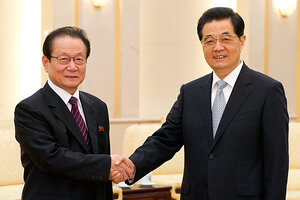 Li Xueren/Xinhua/AP
• A daily summary of global reports on security issues.
China's acquiescence to international condemnation of North Korea for its recent rocket launch has been lauded, but Chinese leadership seemed to make it clear yesterday that North Korea could still count on its closest ally.
At a meeting in Beijing with a top official from North Korea's Workers' Party, Chinese President Hu Jintao reiterated his interest in maintaining close ties between the two countries. "We will carry on this tradition... boost strategic communication and coordination on key international issues and work for peace and stability on the Korean peninsula," state television quoted him as saying, according to the BBC.
The day before, while speaking with Kim Yong-il, the Korean Workers' Party director of international affairs, Chinese State Councillor Dai Bingguo called the alliance between the two countries a "precious treasure" and said China wanted to take their "friendly cooperation to new heights," according to Reuters. Mr. Dai also said that he expected North Korea under Kim Jong-un to "constantly score new successes in building a strong and prosperous country."
---