Syrian regime fights on, but is running out of money
(Read article summary)
The Arab League called an emergency meeting today to debate next steps, amid reports that Syria is violating a UN cease-fire. Some advocate staying the course, as sanctions start to pinch.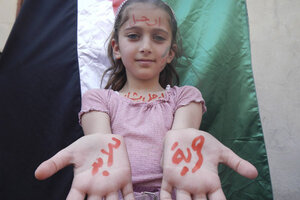 Raad Al Fares/Shaam News Network/REUTERS
• A daily summary of global reports on security issues.
The United Nations peace plan for Syria, created by special envoy Kofi Annan, appears to be coming apart amid reports of renewed fighting throughout the war-ravaged country.
The plan called for an end to violence, but opposition groups continue to report lethal harassment by government snipers and tank attacks. Meanwhile, a blast in the Syrian city of Hama reportedly left at least 69 people dead today.
Amid the ongoing violence, CNN reports that the Arab League called an emergency meeting in Cairo today to discuss the situation in Syria.
As the situation in Syria continues to drag on without any significant change, there is growing debate about whether to give the UN plan more time or to pursue other options.
In a testimony before Congress yesterday, Middle East expert Marc Lynch urged American lawmakers to give the UN peace plan a chance despite its apparent inability to bring stability thus far. Mr. Lynch said any potential military interventions were unlikely to bring about a quick fall of Bashar al-Assad's regime and other "military half-measures," such as arming opposition groups or creating safe zones, would risk spreading violence.
---