Al Shabab strikes Somali lawmakers
(Read article summary)
A suicide bombing in a Somali town more than 300 miles from Mogadishu killed at least two lawmakers who were engaged in trying to set up a lasting government.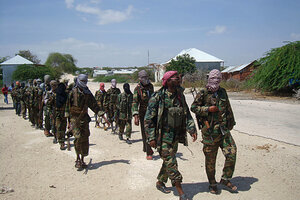 AP/File
• A daily summary of global reports on security issues.
Al Shabab has claimed responsibility for a suicide bombing in a Somali province yesterday that killed at least two lawmakers visiting from the capital. They were meeting several other lawmakers to discuss establishing a local administration as part of a larger effort to end Somalia's series of transitional governments.
Most reports indicate there were civilian deaths as well.
Although Al Shabab attacks on government and African Union targets are common, they are rare in the city of Dusamareb and the Galgadud region, where the attack took place, Reuters reports. Dusamareb has long been controlled by a pro-government militia named Ahlu Sunna, which receives support from Ethopia.
Al Shabab also claimed responsibility for blowing up a car in Mogadishu, killing one man. The militant group said he was targeted because he worked for the government, according to Reuters.
---