Damascus bombings prompt warnings of Iraq-style insurgency
(Read article summary)
Yesterday's bombings in Damascus were the largest since the uprising began. The US and others are sounding an alarm about a particularly worrisome turn in the conflict.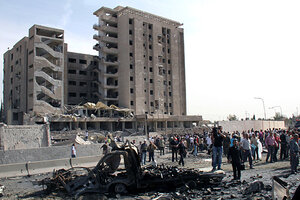 Bassem Tellawi/AP
• A daily summary of global reports on security issues.
Yesterday's bombing of a Syrian government intelligence compound in Damascus, the largest terrorist attack since the uprising began, has the United Nations, the US, and other backers of the opposition worried that the formerly peaceful protest movement is transforming into an armed insurgency that evokes comparisons to Iraq.
No group has claimed responsibility for the two bombings, which killed 55 people and wounded almost 400, according to The New York Times. The Syrian government blamed terrorists, as it has in most past bombings, while the opposition accused the regime of setting up the bombing to frame it, as it too has done in the past. But as the Monitor and other outlets have reported, there is growing evidence that jihadist groups have infiltrated the country and joined the fight against President Bashar al-Assad and his regime.
The New York Times reports that Syrian members of the opposition have noticed a rise in murmurings about jihad and the number of non-Syrians on the battlefield. Analysts have been tracking the uptick in discussion on jihadi websites about going to fight in Syria, and Iraqi officials say that jihadis in their country have been moving west, toward Syria.
---