Palestinian militant sneaks into Israel, kills one soldier
(Read article summary)
The attack ends a period of calm that has prevailed since March and comes on the heels of Israel's return of the remains of 91 Palestinian militants.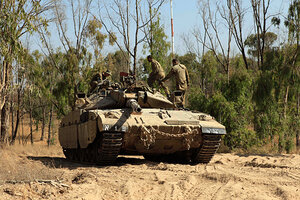 Tsafrir Abayov/AP
• A daily summary of global reports on security issues.
A Palestinian militant crossed over the border from Gaza into Israel today and fired on a group of Israeli soldiers, killing one and interrupting months of calm. Israeli troops returned fire, killing the militant.
According to the Associated Press, this is the first escalation since March. Two rockets from Gaza landed in southern Israel shortly after the incident.
Islamic Jihad, one of several militant groups in Gaza, sent a text message to journalists welcoming the attack and calling him a martyr, AP reports, although Reuters reports that the group denied responsibility for the attack.
Although Hamas has not claimed any involvement in this latest attack and has actually shied away from any provocations of Israel lately, the Israeli military holds Hamas ultimately responsible for all attacks out of Gaza because it continues to amass weapons and has not renounced violence against Israel.
---