UN nuclear watchdog announces talks with Iran – and suspicions about a coverup
(Read article summary)
The International Atomic Energy Agency announced it would meet with Iran in Vienna this week and also acknowledged concerns about a cleanup at a military site where it suspects past weapons-related activities.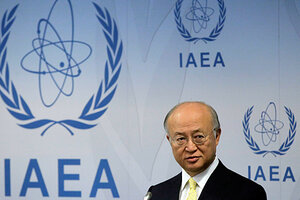 Herwig Prammer/Reuters
• A daily summary of global reports on security issues.
The head of the UN nuclear watchdog agency announced yesterday that his agency would hold talks with Iran again on June 8 and also voiced suspicions that Iran has been destroying buildings at a military site, possibly indicating a cover-up of activities there.
The site in question is the Parchin military complex, to which the International Atomic Energy Agency (IAEA) has been pushing particularly hard to gain access. Iran has consistently refused to grant access to the site. The IAEA suspects that Iran has carried out high explosives tests at Parchin.
Although diplomats and unnamed IAEA officials have mentioned such concerns before, this is the first public acknowledgment by the IAEA head, Yukiya Amano, giving the suspicions weight, according to Bloomberg.
His comments imply that the IAEA is concerned that Parchin is being "cleansed" in preparation for an IAEA visit Iran will likely have to permit at some point, according to Bloomberg. The suspicions are based on satellite images released last month that show activities that include "the use of water, demolishing of buildings, removing fences and moving soil," Mr. Amano said, according to Bloomberg.
Commercial satellite images published subsequently by the Washington-based Institute for Science and International Security showed two buildings visible on earlier photos no longer standing.
---