Car bombings hit Shiite pilgrimage, underscoring Iraq's sectarian divide
(Read article summary)
Sunni-Shiite tensions are high in Iraq, where Prime Minister Maliki's coalition government partners – particularly one Sunni bloc – accuse him of failing to share power.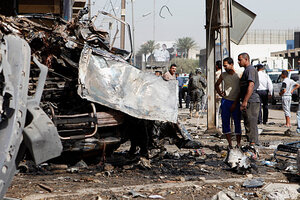 Karim Kadim/AP
• A daily summary of global reports on security issues.
As Shiite pilgrims poured into Baghdad today, coordinated car bombings struck the annual pilgrimage, killing at least 63.
The Associated Press reports that the attacks bore similarities to those carried out by Sunni insurgents in the past, implying a sectarian motivation – a troubling element in a country where the foremost concern is a return to the sectarian violence that left the country in shambles and continues to impede the rebuilding process today.
Today's attacks in Baghdad and at least five other cities or towns were the third this week targeting the pilgrimage, according to Associated Press. The first bomb struck in Taji, north of Baghdad, around 5 a.m. local time. It was followed by four throughout Baghdad; two in Hillah, south of the capital; one in the Shiite holy city of Karbala; and one in Balad, north of Baghdad. (See map here.) In 2005, roughly 1,000 Shiites were killed during the same pilgrimage in Baghdad when rumors of a suicide bomber spread through a procession, prompting a stampede.
---