Tehran's No. 1 demand for Iran nuclear talks in Moscow
(Read article summary)
In the buildup to next week's Iran nuclear talks in Moscow, Tehran has demanded that Western powers formally acknowledge its right to enrich uranium.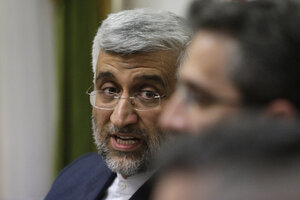 Vahid Salemi/AP
• A daily summary of global reports on security issues.
Heading into Iran nuclear talks next week, Tehran's top demand is that Western powers acknowledge its right to uranium enrichment, reports the Tehran Times.
That is one of five Iranian proposals will be on the table at next week's Iran nuclear talks in Moscow, the third round in negotiations that were renewed this spring. The Moscow talks, held June 18-19, will be crucial in determining whether any headway can be made on the diplomatic track before a European oil embargo that is due to take effect next month.
A drumbeat of comments from Iranian officials in recent weeks – all insisting on Iran's "inalienable right" to enrich uranium – seem to be trying to build a case for blaming Western powers if the talks in Moscow fail by making their opening position clear.
Earlier this week Foreign Ministry Spokesman Ramin Mehman-Parast said that Iran is "very serious and prepared" for the negotiations. "Grounds for the success of this meeting depend on the manner of cooperation and positive and constructive approach of the [P5+1]," he said, according to Fars News Agency. "The more seriously they will be ready to enter the talks and recognize our inalienable rights, the more the grounds will be for the success of the talks."
---