Man claiming Al Qaeda ties takes hostages in Toulouse, France
(Read article summary)
A man holding four people hostage in a Toulouse bank is demanding to speak to police about their fatal shooting of a French Muslim man who attacked a local Jewish school in March.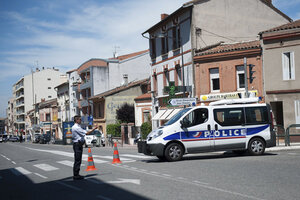 Bruno Martin/REUTERS
A man claiming ties to Al Qaeda has taken four hostages in a bank in Toulouse, France – the same area where Mohammed Merah killed seven people earlier this year before being shot dead by police.
After firing a shot, the hostage-taker demanded to speak to the elite police unit, RAID, behind Mr. Merah's death. Merah, a French citizen of Algerian descent who also claimed ties to Al Qaeda, killed three children and a rabbi at a local Jewish school and three French soldiers in a nearby town in March. He was killed by police in his apartment after a 32-hour siege.
Police are not sure yet whether the hostage-taker's Al Qaeda claims are real or "fantasy," according to the BBC. Police official Cedric Delage said the hostage situation evolved from a failed armed robbery at a bank that is only 330 feet from Merah's apartment. The bank is also very close to the barracks where RAID was based during the siege on the apartment.
Following Merah's death, the government investigated whether he had any accomplices. The BBC reports he was suspected of having one, and Associated Press reports that Merah's brother is in custody on preliminary charges of having had a hand in planning the March attacks.
---