Three top Syrian officers defect to Turkey. How bad for Assad?
(Read article summary)
Such high-level defections have been rare so far. But if they become more frequent, they could cause Assad's regime to crumble from within.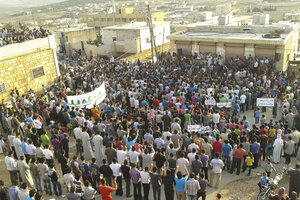 Raad Al Fares/ Shaam News Network/REUTERS
• A daily summary of global reports on security issues.
A handful of top Syrian military officers defected overnight from Bashar al-Assad's regime, seeking refuge in Turkey amid rising tensions between the neighbors.
The group included 33 soldiers and their families – a total of 224 people, including at least three with a rank of colonel or higher. One of those three may be a general, but reports on the rank of the third high-level defector remain inconclusive.
Defections among low-level Syrian conscript soldiers remain relatively common but such high-level defections have been relatively rare so far. If a general were among those who fled their posts in the Syrian Army, as some reports suggest, it would mark the 13th general to defect to Turkey since the uprising began about 16 months ago, reports Al Jazeera. Turkey is now host to nearly 33,000 Syrian refugees, the government announced last week.
While Assad loyalists still have plenty of weapons to inflict serious damage on rebel forces in Syria, the recent defections are bad news for Assad's regime. And they come at a time of worsening relations between Syria and Turkey, after a Turkish jet was shot down by Syria.
---