Days after woman executed, Karzai asks Taliban to enter politics
(Read article summary)
Afghanistan's President Karzai encouraged the Taliban to disarm and join the political process. His police, meanwhile, have been blaming the group for the public execution of a woman.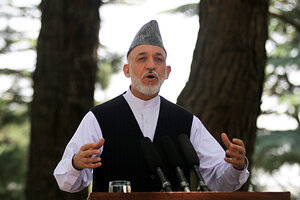 Mohammad Ismail/Reuters
• A daily summary of global reports on security issues.
President Karzai is encouraging the Taliban to drop their weapons and run for political office, even as the group is busy denying Afghan police claims of Taliban involvement in the recent public execution of a woman for adultery.
The execution, at close range in front of a cheering crowd, was condemned widely after a cellphone recording of the murder spread this week. Authorities in Kabul blamed the execution – which was attended by at least 150 men – on the Taliban. So-called public "honor killings" were common during the Islamist group's rule of the country between 1996 and 2001, according to Agence France-Presse.
Advocates for women's rights in Afghanistan have expressed concerns that gains for women will be traded off in the power struggles to come as most foreign forces exit by 2014. Such concerns will only be heightened by Mr. Karzai's political outreach to the Taliban, just days after his government blamed members of the group for the public execution.
---