Syria's war reaches solidly pro-Assad Aleppo
(Read article summary)
Assad's forces retook some parts of Damascus over the weekend, but in a potentially more telling sign, rebels brought the fighting to previously quiet Aleppo.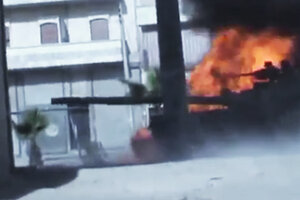 Ugarit News via AP video
• A daily summary of global reports on security issues.
Even as government forces have driven them out of parts of Damascus, Syrian rebels have launched a new campaign in the country's largest and once firmly pro-regime city of Aleppo. And as the fighting worsens in Syria, Western and Arab governments are pursuing new measures to circumvent Russian and Chinese obstinance to end the conflict and oust the Assad regime.
Syrian forces under the command of Maher al-Assad, brother of President Bashar al-Assad, drove the rebels out of the Damascus districts of Mezzeh and Barzeh over the weekend, witnesses told Al Jazeera English. Activists told AJE that the Syrian military has reestablished checkpoints along one of the main roads into the city, and is sending reinforcements into the capital. Activists in Mezzeh told Reuters that the government forces executed at least 20 men during the capture of the neighborhood.
But AJE adds that rebels have launched attacks around the northwestern city of Aleppo, Syria's largest and wealthiest city, which beforehand had been largely untouched by the fighting. Aleppo activist Jad Al Halabi told AJE that the current fighting in the city is the worst to date.
"I traveled to Salahedin neighborhood. I was shocked to see the revolution flags everywhere, in the streets, on buildings, at the balconies. I also saw a large number of Free Syrian Army members," he said by phone.
---