Fearing spillover, Turkey closes border with Syria as Aleppo braces for war
(Read article summary)
Thousands of Syrian troops are headed toward Aleppo, where rebels have taken over some neighborhoods. Many Syrians never expected the fighting to reach the regime stronghold.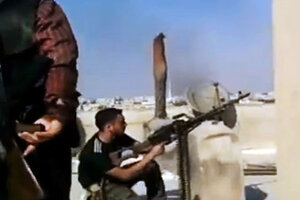 Ugarit News via AP video/AP
• A daily summary of global reports on security issues.
Turkey closed its border with Syria today to all but refugees as violence gripped the northern commercial city of Aleppo for the fifth day.
Today's closure will seal the only three border gates that remain open along the 566-mile border, closing off important supply routes into Syria, according to local newspaper National Turk. Rebel and regime forces have fought fiercely for control of the border posts; the closure follows the rebels recently wresting control of two border posts from government troops, Agence France-Presse reports.
Zafer Caglayan, the Turkish economy minister, told the Associated Press that "dozens of Turkish trucks were either looted or torched" during a clash last week in which rebels took over border crossing of Bab al-Hawa and, in the last year, Turkish truck drivers have been regularly targeted or caught in the middle of fighting. Rebels frequently smuggle weapons and other materials across the border and they control a substantial amount of territory on the Syrian side.
---