Rebels, observers dispute importance of Syrian prime minister's defection
(Read article summary)
Syrian Prime Minister Riyad Farid Hijab has defected from the Assad regime, but there have still been no defections among Alawite members of government, which would be the more telling sign.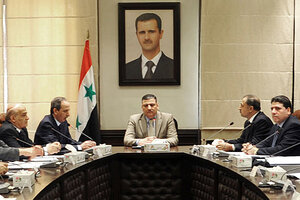 SANA/AP
• A daily summary of global reports on security issues.
A day after Syria's highest-ranking defector to date left the embattled government of President Bashar al-Assad, Syrians and the international community alike are at odds over how big an impact it will have on the conflict there.
Prime Minister Riyad Farid Hijab fled the country overnight, arriving in Jordan early yesterday morning. Through his spokesman, he called the Syrian government a "terrorist regime." It remains unclear where Mr. Hijab is now, but some reports have placed him in Qatar, one of the biggest supporters of the Syrian opposition.
Rebels were quick to paint the defection as a major step forward for their cause.
"This is a proof that the political basis of the regime is collapsing," said Samir Nachar, a leader of the Syrian National Council, according to The New York Times. "This is the momentum we needed to tell the political and military elite that it is time for them to jump off the sinking ship."
---