Syrian rebels seek no-fly zone to level playing field with Assad
(Read article summary)
A no-fly zone imposed by NATO and Arab allies helped Libyan rebels overthrow Muammar Qaddafi last year. But the West has shown little appetite for any Libya-style action in Syria.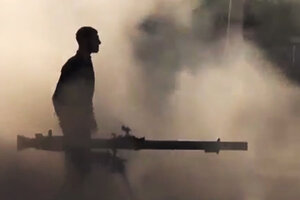 Syrian Observatory for Human Rights via AP video/AP
The fate of the the Assad regime depends on who controls the skies over Syria, say rebel leaders as they call upon the international community to create a no-fly zone over the beleaguered country.
Haaretz reports that rebel commanders are vocal in their requests for an internationally established no-fly zone over Syria, even amid reports of the rebels shooting down a regime jet fighter in the eastern part of the country.
"What is hindering our movements to take control of more areas [in Syria] is the constant bombardment launched by the regime jets," Abu Alaa, a Syrian Free Army commander in Aleppo, told Deutsche Press Agentur. "Imposing a no-fly zone is essential for us to continue our fight."
Abdelbasset Sida, head of the anti-Assad Syrian National Council, made similar statements this weekend, reports Reuters. "There are areas that are being liberated," Mr. Sida told Reuters by telephone from Istanbul. "But the problem is the aircraft, in addition to the artillery bombardment, causing killing, destruction."
He said the establishment of safe areas on the borders with Jordan and Turkey "was an essential thing that would confirm to the regime that its power is diminishing bit by bit."
---