UN observers pull out of Syria as Western intelligence work ramps up
(Read article summary)
According to news reports, Britain and Germany are providing intelligence to Syrian rebels and looking the other way as Gulf countries provide rebels with heavy weapons.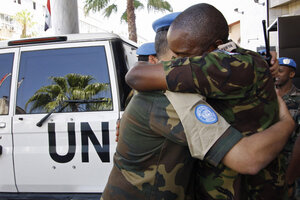 Muzaffar Salman/AP
• A daily summary of global reports on security issues.
Four months after entering Syria to observe a cease-fire that never took hold, United Nations monitors departed Damascus today, leaving the country in the throes of a civil war.
Reuters reports that several UN-tagged cars left a Damascus hotel this morning, carrying away the last of the unarmed observers. Most of the observers, who numbered 300 at their peak, had already left after the mission was suspended in June. The mission officially ended at 12:00 a.m.
"Our mission failed because the two sides did not abide by their commitments," one uniformed UN observer, who declined to be named, said at the Damascus hotel.
As the UN monitors left Syria, fighting raged across the country today, the second day of the three-day Eid al-Fitr holiday. The Associated Press writes that according to the London-based Syrian Observatory for Human Rights and the Local Coordination committees, six people were killed today in Daraa, where the uprising against President Bashar al-Assad's regime began. Other reports say at least seven people were killed in the town of Moadamiyeh, possibly in connection to the defection of some 30 troops and a tank to the rebels in the area. None of the reports could be independently confirmed.
---