Russia, US spar over threat posed by Syria's chemical weapons
(Read article summary)
Russia sought to reassure the international community about the security and possible use of Syria's chemical weapons after Obama warned the Assad regime about 'red lines.'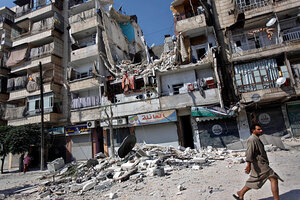 Khalil Hamra/AP
• A daily summary of global reports on security issues.
An unnamed Russian official told leading Russian daily Kommersant that "confidential dialogue" with the Syrian regime has assured Moscow that President Bashar al-Assad will not use chemical weapons against the opposition in the country's civil war and that he remains capable of keeping them secure.
The disclosure was a response to President Obama's threat earlier this week of "enormous consequences" for the Assad regime if it seemed to be preparing to utilize its chemical weapons arsenal. "We have been very clear to the Assad regime, but also to other players on the ground, that a red line for us is [if] we start seeing a whole bunch of chemical weapons moving around or being utilized," Obama said, according to NBC News. "That would change my calculus."
According to the Kommersant report, the same Russian official said that Moscow thought it "entirely probable" that the US would act, Reuters reports.
---