US drone attack kills 18 in restive North Waziristan, despite Pakistan protests
(Read article summary)
US missiles killed 18 suspected militants near the Afghan border, just a day after the Pakistan government summoned a US diplomat to protest the use of drone attacks.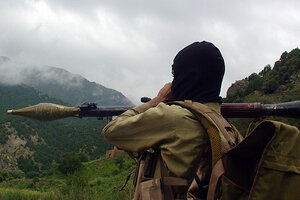 Ishtiaq Mahsud/AP
• A daily summary of global reports on security issues.
American missiles targeting suspected militants in Pakistan along the Afghan border killed 18 today, just one day after Pakistani authorities met with a United States diplomat to protest drone strikes in the country.
The US drone campaign has been a serious contributor of tension between the US and Pakistan, and today's attacks were the fourth in one week, reports the Associated Press. All of this week's attacks took place in North Waziristan, an especially restive area where the Pakistani military has yet to conduct any operations against militants.
Pakistan sees the use of drones as a violation of their sovereignty, but the US argues that drones are vital in combatting militants, including members of Al Qaeda and Taliban, active along the border of Pakistan and Afghanistan. The drone strikes are unpopular in Pakistan for other reasons as well – many believe they kill mostly civilians, something the US disputes.
---