'Atrocity on a new scale'? Syrians piece together story of Daraya massacre
(Read article summary)
The Syrian opposition is disseminating video footage from the town of Daraya this weekend that tells of a government massacre that may have left more than 600 people dead.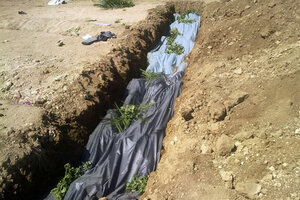 Shaam News Network/AP
• A daily summary of global reports on security issues.
New video footage has provided graphic evidence of a massacre reportedly committed by forces loyal to Syrian President Bashar al-Assad in the Damascus suburb of Daraya. If reports from the London-based Syrian Observatory of Human Rights of more than 300 dead are confirmed, "it would be an atrocity of a new scale" in the Syrian conflict, a British diplomat warned.
Over the weekend, activists posted multiple bloody videos of the victims of what they say was a coordinated massacre of citizens of Daraya – mostly young men of fighting age, although women and children were killed as well – that began on Friday.
"The Assad forces killed them in cold blood," Abu Ahmad, a resident of Daraya, told The New York Times. "I saw dozens of dead people, killed by the knives at the end of Kalashnikovs, or by gunfire. The regime finished off whole families, a father, mother and their children. They just killed them without any pretext."
The Local Coordination Committees activist group said that some 150 bodies were found Saturday night in the basement of a mosque in what seems to be the largest single killing site, though additional sites continue to be found – another 15 bodies were found in the basement of a home on Sunday. The LCC puts the death toll for the week in Daraya at more than 630.
---