As China and Japan set meeting to ease island dispute, Taiwan steps into fray
(Read article summary)
Japan is sending a top diplomat to China for talks. But Taiwan is now sending ships to patrol the disputed region, threatening to further complicate things.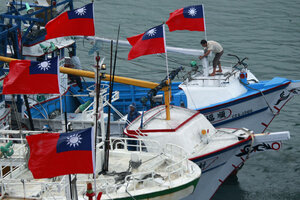 Wally Santana/AP
A daily summary of global reports on security issues.
Chinese and Japanese officials are set to meet to discuss their nations' impasse over a disputed island cluster tomorrow, as Chinese ships patrol the area in an attempt to reinforce Beijing's claim to the islands. But a new party looks set to step in with its own claim to the islands: Taiwan.
Japanese Vice-Foreign Minister Chikao Kawai will head to China for two days of talks over the disputed islands, known as the Senkaku islands in Japan and the Diaoyu islands in China, reports the BBC. Hong Kong's RTHK English news adds that Mr. Chikao is expected to meet with Chinese Vice Minister of Foreign Affairs Zhang Zhijun tomorrow.
The BBC reports that news of the diplomatic meeting comes amid the Chinese vessels' ongoing sail-bys in the area, the latest being a pair of "marine surveillance ships" making a "rights defense" patrol, according to China's State Oceanic Administration. Japanese officials also said a Chinese fishing vessel sailed through the area. Japan lodged a protest over the vessels' visit, with a government spokesman promising that "if they enter our territorial waters, we will raise objections at the highest level." At present, no Chinese vessels are reported in the vicinity of the islands.
---