Syria: more UN assembly speeches, one less UNESCO site
(Read article summary)
Fierce fighting in Aleppo left a UNESCO World Heritage Site in tatters as world leaders left the UN General Assembly meeting no closer to a resolution for the 19-month conflict.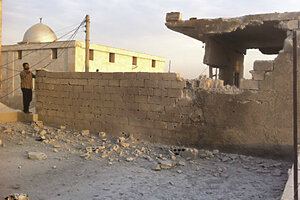 Courtesy of Shaam News Network/Reuters
• A daily summary of global reports on security issues.
Heavy shelling rocked Damascus and other towns today, just a day after the closing of the week-long United Nations General Assembly meeting, where world leaders spent countless hours calling for an end to the deadly Syrian crisis and Syria's foreign minister accused members of trying to impose colonial policies on his country.
Anti-government activists reported shelling in Daraa, Idlib, and the Damascus suburb of Douma today, and at least 17 people were killed this morning as a result of the violence, according to the opposition's Local Coordination Committees of Syria. Fierce fighting in Aleppo, which began in the city's Souk al-Medina over the weekend and continued into yesterday, left the Old City, a UNESCO World Heritage Site, smoldering.
At the close of the General Assembly yesterday, no diplomatic resolution was reached on Syria, despite more than seven days of speeches where "Syria was discussed by one country after another," reports the Associated Press.
---