Double blow to Mexico's Zetas? Top man Lazcano reportedly killed, another captured
(Read article summary)
The Mexican Navy reports there are 'strong indications' that marines killed Zetas top man Heriberto Lazcano. Could this mean the end for the Zetas, or trigger more violence?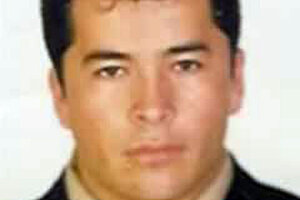 Mexico's Attorney General's Office/AP/File
In an apparent double blow to Mexico's most notorious drug cartel, Mexican authorities said they believed they have killed the leader of the Zetas gang and captured a high-ranking lieutenant wanted for more than 300 murders.
The Mexican Navy said in a brief statement late Monday that there were "strong indications" that marines had killed Zetas top man Heriberto Lazcano in a battle in Progreso, Coahuila, reports the Los Angeles Times. After responding to citizens' reports of armed men in the vicinity, a marine patrol came under attack with grenades and gunfire. The marines returned fire, killing two men. Initial forensic tests indicated that Mr. Lazcano was one of the two dead.
The death of Lazcano, if confirmed, would be a massive blow to the Zetas organization, one of Mexico's most fearsome. Lazcano was Mexico's second most wanted man, behind only Sinaloa cartel leader Joaquin "Chapo" Guzmán. The Mexican and US governments both offer rewards for his capture, of $2 million and $5 million respectively.
Lazcano was an original member of the Zetas, which started out as a paramilitary hit squad for the Gulf cartel before breaking off to work independently, ultimately rising to become one of the most feared gangs in Mexico. Like most of the Zetas founding members, Lazcano was a former Mexican special forces soldier, and thus a cut above the average Mexican gangster. Lazcano has run the Zetas gang since 2004, and in his book "El Narco," journalist Ioan Grillo wrote that Lazcano brought the gang's violence to a new level after he took over, targeting not just victims and rival gangs, but authorities as well.
---