Turkey grounds Armenian plane in growing de facto air blockade of Syria
(Read article summary)
A week after raising Russian ire by grounding a plane traveling from Russia to Syria, Turkey grounded an Armenian airliner – this time in a routine check arranged in a recently inked agreement.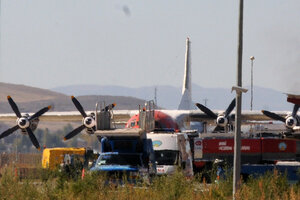 AP
• A daily summary of global reports on security issues.
A week after Turkey forced down a Syrian passenger jet allegedly carrying illegal cargo, irking Russia and Syria, Turkey has brought down an Armenian aircraft for inspection in an apparent expansion of a de facto air blockade of Syria from the north.
The Turkish deputy prime minister said today that the Armenian plane, which was reportedly carrying humanitarian aid, passed inspection and was allowed to continue on to Syria, reports Reuters. Unlike the earlier Syrian flight from Moscow, Armenian officials had been informed ahead of time that the aircraft would be subject to inspection, Turkish officials told Reuters. Armenian officials confirmed this to news agency Armenpress.
The plane's grounding appears to be part of an expansion of Turkish efforts to do what it can to prevent weapons from reaching the regime of Syrian President Bashar al-Assad. Over the weekend, Turkey and Syria each banned the other's aircraft from its own airspace.
---