Cease-fire in Syria? Support from Iran and Turkey boosts UN envoy's bid
(Read article summary)
Iran and Turkey back opposite sides in the Syria conflict, but the two powers are united in support for UN envoy Lakhdar Brahimi's proposal for a cease-fire later this month.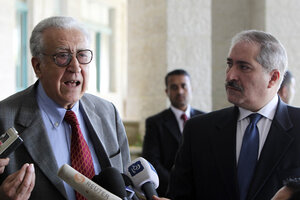 Ali Jarekji/REUTERS
• A daily summary of global reports on security issues.
A fresh cease-fire proposal for Syria received a much-needed boost today when Iran and Turkey, two regional powers who back opposite sides in the Syrian conflict, declared their support for the plan being shopped around by United Nations special envoy to Syria Lakhdar Brahimi.
Although the actual fighting has been limited to Syria, other countries are providing funds, arms, fighters, and de facto safe havens, making outside support for the cease-fire critical to its success.
Mr. Brahimi has spent the week making his rounds of the region to garner support for the cease-fire, which would be slated for the three-day Muslim holiday Eid al-Adha later this month. His hope, The New York Times reports, is that a holiday "universally respected by Muslims could be the basis not only for a pause in the fighting but perhaps the beginnings of a dialogue in Syria."
The envoy said today that rebel leaders had pledged to observe the cease-fire, but that they insisted the government halt its fighting first, BBC reports.
---