Qatari emir comes to Gaza bearing gifts – maybe with some strings attached
(Read article summary)
Sheikh Hamad bin Khalifa al-Thani's visit, pegged to the delivery of a hefty aid package, is the latest iteration of Qatar's efforts to expand its political influence in the region.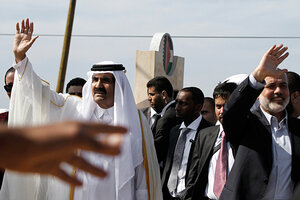 Hatem Moussa/AP
• A daily summary of global reports on security issues.
The emir of Qatar traveled to Gaza today, becoming the first head of state from any nation to visit the territory since the Islamist group Hamas took power five years ago. The emir is bringing significant offers of aid, furthering the small oil-rich nation's efforts to gain influence around the region.
According to The Wall Street Journal, Sheikh Hamad bin Khalifa al-Thani's visit is pinned to the launch of an aid package earmarked for $254 million to fund reconstruction projects in Gaza – "symbolic" relief for a territory that has been economically and politically isolated by the West and Israel since Hamas took over in 2007. Reuters noted upon the emir's arrival that the original amount was increased to $400 million.
During the emir's four-hour visit, he will inaugurate several projects, among them a housing project, hospital, and renovation of Gaza's major north-south highway, Salaha-Din Road.
This is the "latest example of Qatar's use of its oil and gas riches and ties to Islamist organizations to expand its regional influence," reports The Wall Street Journal. It has played an active role in the regional uprisings, leading regional efforts to isolate Syrian President Bashar al-Assad – it was one of the first countries to close its embassy there – and overthrow former Libyan leader Muammar Qaddafi.
---