Rebel fighters in the DR Congo enter Goma, threatening wider conflict
(Read article summary)
After days of pushing back UN peacekeepers to close in on the eastern city of Goma in the Democratic Republic of Congo, a rebel group called M23 is threatening to destabilize the region.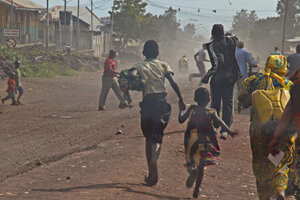 Melanie Gouby/AP
• A daily summary of global reports on security issues.
A rebel group in the Democratic Republic of Congo seized strategic parts of the eastern, mineral-rich city of Goma today, and is reportedly moving south toward Bukavu, threatening to immerse one of Africa's largest countries in a new conflict and destabilize the region.
Fighters from the March 23 movement (M23), a rebel group created just seven months ago, entered Goma after clashes broke out with Congolese soldiers over the weekend, reports the Associated Press.
Explosions and machine-gun fire rocked the lakeside city as the M23 rebels pushed forward on two fronts: toward the city center and along the road that leads to Bukavu, another provincial capital, which lies to the south.

Civilians ran down sidewalks and roads looking for cover and children shouted in alarm as gunfire crackled in the distance. A man clutched a thermos as he ran. A white tank with UN emblazoned on its side rolled down a Goma street, passing a Congolese army tank.

The U.N. peacekeepers, known by their acronym MONUSCO, were not helping the government forces during Tuesday's battle because they do not have a mandate to engage the rebels, said Congolese military spokesman Olivier Hamuli, who was frustrated over the lack of action by the peacekeeepers.
---