Is Syria's Assad running short of helicopters and cash?
(Read article summary)
ProPublica reports that Syria asked Iraq to allow helicopter shipment overflights from Russia, just days after other documents revealed Russia sent Syrian currency to Damascus.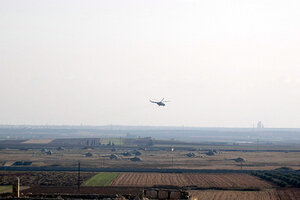 Courtesy of Redwan Al-Homsi/Shaam News Network/Reuters
• A daily summary of global reports on security issues.
According to a new report, Syria sought permission from Iraq last month to ship attack helicopters being refurbished by Russia through Iraqi airspace. But while it is unclear whether the shipments ever occurred – unlike eight shipments of Syrian currency sent from Russia that was revealed earlier this week – the reports, taken together, indicate an increasing level of desperation on the part of President Bashar al-Assad's regime.
Nonprofit investigative journalist organization ProPublica reports today that according to flight request documents, Syria has made multiple requests of Iraq for the helicopter-shipment overflights, including flights that were scheduled to leave Moscow on Nov. 21 and Nov. 28. ProPublica does not disclose how it obtained the flight request documents and writes that their authenticity could not be verified.
The organization reports that the two November flights did not appear to take place as scheduled according to a photographer on the scene at the Moscow airport, though it is not clear whether they went through at a different time. ProPublica's documents indicate two more flights are scheduled for Dec. 3 and Dec. 6.
---