With Hamas's confidence waxing, Khaled Meshaal arrives in Gaza
(Read article summary)
The Hamas leader's return to Palestinian territory, his first visit since 1967, coincides with the party's increased sway after an eight-day conflict with Israel and UN recognition of Palestine.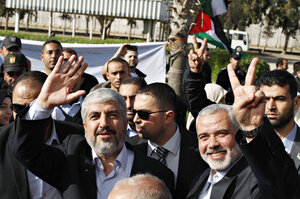 Suhaib Salem/Reuters
• A daily summary of global reports on security issues.
Exiled Hamas leader Khaled Meshaal is walking on Palestinian territory for the first time in 45 years. He's in town to celebrate his party's 25th anniversary and the end of a week-long conflagration with Israel last month.
But his visit could also signal growing confidence within the Islamist party – which Israel, the United States, and the European Union consider a terrorist organization – over its position in the tumultuous Middle East.
Mr. Meshaal, who left the West Bank as a boy in 1967 and had not visited Gaza before today, has led Hamas for over 15 years, primarily from the party's offices in Damascus, Syria. But he was in Egypt late last month for negotiations of the cease-fire that ended the eight-day conflict with Israel. Some 170 Palestinians and six Israelis were killed in the violence, the Telegraph reports, the worst fighting in four years. The New York Times reports that Hamas' negotiation of "a cease-fire with Israel through the agency of the Egyptians … may represent an important step toward becoming a more recognized international player and representative of at least a portion of the Palestinian people."
---