US embassy evacuated as rebels surge in Central African Republic
(Read article summary)
The turmoil in the landlocked African nation has prompted calls for France to intervene militarily in its former colony. 'Those days are gone,' said French President François Hollande.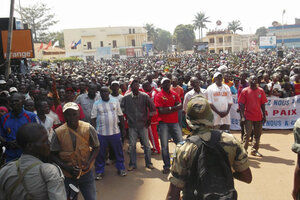 Reuters
Rebels are closing in on the capital of the impoverished Central African Republic, threatening to topple the weak government and push yet another African nation into civil war, failure, or outright collapse, The Associated Press and other news outlets are reporting.
The former French colony joins a string of countries stretching from Mali and the Ivory Coast to Congo and South Sudan where war and turmoil have created waves of refugees and power vacuums for warlords or criminal groups to exploit. Several of the countries are former French colonies, raising questions for Paris about whether to get involved in the conflicts.
The United States evacuated its embassy in the CAR capital Bangui overnight, sending the ambassador and around 40 other staff to Kenya due to the deteriorating security situation, the AP reports. The United Nations has also ordered around 200 non-essential staff to depart, as well.
---