UN envoy: Without deal in Syria, think Somalia not Yugoslavia
(Read article summary)
The United Nations' envoy to Syria Lakhdar Brahimi argued against hopes that the country could find stability by devolving into a set of smaller states.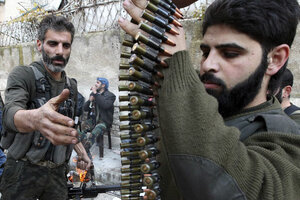 Muzaffar Salman/Reuters
• A daily summary of global reports on security issues.
After a week of attempting to craft a peace plan that both President Bashar al-Assad and the Syrian opposition would agree to, the United Nations' envoy to Syria said the situation will not stabilize on its own and that a political deal is no closer.
"People are talking about a divided Syria being split into a number of small states like Yugoslavia," Lakhdar Brahimi said, according to The New York Times. "This is not what is going to happen. What will happen is Somalization – warlords."
"The situation is bad and it's getting worse," Brahimi also said, according to Bloomberg Businessweek. "I can't see anything other than these two paths: Either there will be a political solution that will meet the ambitions and legitimate rights of the Syrian people, or Syria will turn into hell."
He warned that the violence could claim as many as 100,000 lives in 2013.
---