Malaysia standoff in Borneo spurs concern about broader repercussions
(Read article summary)
A rising death toll, three weeks after Filipino militants stormed Malaysia's eastern state of Sabah on Borneo Island, could spur a broader confrontation between Malaysia and the Philippines.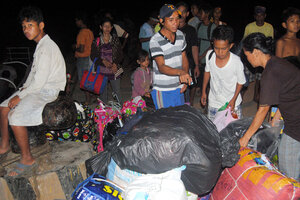 Nickee Butlangan/AP
• A daily summary of global reports on security issues.
The death toll has risen to at least 31 people over the weekend following a standoff between Malaysian authorities and Filipino militants, who stormed the island of Borneo three weeks ago and refused to leave.
Observers fear the incident could have broader domestic repercussions in Malaysia and the Philippines.
Yesterday Malaysian police said unidentified armed men attacked and killed at least six security officials in Malaysia's eastern state of Sabah, reports The Wall Street Journal. These deaths came just days after 14 people – two Malaysian and 12 Filipino – were killed in clashes between Malaysian security forces and the militants who claim to represent the self-proclaimed Sultan of Sulu.
In early February, more than 100 followers of the Sultan of Sulu reignited a centuries-old land dispute by traveling to Sabah and refusing to abandon claims to the territory, reports The Christian Science Monitor.
The sultanate, or the territory the sultan governed, existed from the late 15th century until the late 19th century, governing Muslims spanning parts of Sulu and northern Borneo.

Though the sultanate is not recognized anymore internationally as a governing entity, Malaysia still pays a token "rental fee" to the heirs of the last sultan.
---