North Korea suspends last major project with South Korea
(Read article summary)
North Korea's decision to pull its workers from Kaesong industrial park coincides with speculation that it could carry out a missile test.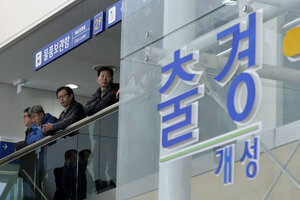 Lee Jin-man/AP
• A daily summary of global reports on security issues.
Pyongyang announced it is withdrawing its workers from the Kaesong industrial complex, the joint North-South Korean manufacturing venture that has become something of a bellwether of North Korea's intentions amid its increased belligerent threats.
Reuters reports that the decision by the North to suspend its last major symbol of cooperation with the South came down Monday, amid growing concerns that Pyongyang is preparing some sort of provocation, possibly a missile or nuclear test.
"[The North] will temporarily suspend the operations in the zone and examine the issue of whether it will allow its (continued) existence or close it," KCNA quoted Kim Yang Gon, secretary of the Central Committee of the Workers' Party of Korea, as saying.

KCNA said leaders in South Korea, a major U.S. ally, were "running the whole gamut of intrigues to find a pretext for igniting a war against (North Korea) after reducing the Kaesong Industrial zone to a theatre of confrontation".
---