Anti-government protests in Iraq devolve into sectarian fighting
(Read article summary)
Reports indicate that 128 people have been killed since clashes erupted between security forces and mostly Sunni protesters calling for the resignation of Shiite Prime Minister Nour al-Maliki.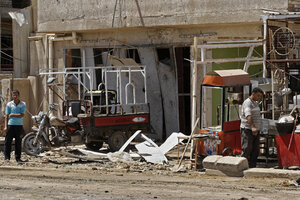 Hadi Mizban/AP
• A daily summary of global reports on security issues.
Scores of Iraqis have been killed in two days of sectarian fighting in central Iraq, raising concerns about a new Sunni uprising against the Shiite central government.
Agence France-Presse reports that 128 people have been killed and 269 wounded since Tuesday in fighting between security forces and anti-government protesters in Sunni-majority regions of the mostly Shiite country. The protesters have been calling for the resignation of Shiite Prime Minister Nour al-Maliki, whose government they say has been targeting Sunnis.
The Los Angeles Times writes that observers have long feared that violence would erupt from the protests, which began in December.
The protests brought together a combustible mix of Islamists, former insurgents, tribes and competing political camps across central and northern Iraq.

The government's suspicions about the protesters and slow response to their demands had raised the prospect of an armed Sunni uprising. After Tuesday's violence, it was no longer clear that such an uprising could be averted.
The Los Angeles Times writes that according to Iraqi authorities, the bloodshed began in the town of Hawija, near the northern city of Kirkuk, with 50 people killed, though the violence spread across the country quickly.
The Iraqi Defense Ministry said in a statement on Thursday that gunmen seized control of the town of Suleiman Beg, located north of Baghdad, after fighting with security forces on Wednesday, according to the Press Trust of India. AFP writes that five soldiers and seven gunmen were killed and 63 wounded in the town when the gunmen attacked in apparent revenge for Tuesday's violence. PTI adds that the gunmen seized the police station, and that the town is under siege by security forces.
---