North Korea explains why it sentenced American Kenneth Bae to hard labor
(Read article summary)
Mr. Bae was detained and sentenced to 15 years in prison. North Korea today spelled out its charges, which include plotting to overthrow the government.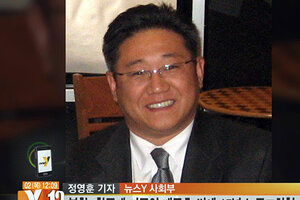 Yonhap/Reuters
• A daily summary of global reports on security issues.
North Korea released new details on Thursday of the crimes for which Kenneth Bae was sentenced to 15 years of hard labor last week, painting the American as a subversive who was plotting to overthrow the government.
A spokesman of the North Korean Supreme Court told state news agency KCNA that Mr. Bae "set up plot-breeding bases in different places of China for the purpose of toppling the DPRK government from 2006 to October 2012 out of distrust and enmity toward the DPRK." The KCNA refers to North Korea by its official name, the Democratic People's Republic of Korea (DPRK), and to Bae by his Korean name, Pae Jun Ho.
[Bae] committed such hostile acts as egging citizens of the DPRK overseas and foreigners on to perpetrate hostile acts to bring down its government while conducting a malignant smear campaign against it. He was caught red handed and prosecuted while entering Rason City of the DPRK, bringing with him anti-DPRK literature on Nov. 3 last year.

Pae visited different churches of the U.S. and south Korea to preach the necessity and urgency to bring down the DPRK government. He was dispatched to China as a missionary of the Youth With A Mission in April, 2006. After setting up plot-breeding bases disguised with diverse signboards in different parts of China for the past six years, avoiding the eyes of its security organs, he brought together more than 1,500 citizens of the DPRK, China and foreigners before whom he gave anti-DPRK lectures.
The article adds that Bae planned the "Jericho operation," which involved infiltrating some 250 students into Rason, where he was arrested. The article also says that Bae avoided the death penalty only because he confessed to his purported crimes.
Bae was arrested last November while leading a legal tour in North Korea, and last week received the longest sentence ever meted out in North Korea against a US citizen. His sentencing comes amid heightened tensions between Pyongyang and Washington, and is seen by analysts as a move to use Bae as a bargaining chip to procure concessions from the US. The KCNA article denied that Bae would be used as such, however.
Bae's sentencing prompted a request on Twitter from US basketball star Dennis Rodman, who earlier this year visited North Korean leader Kim Jong-un and calls him a "friend," that Mr. Kim "do him a solid" and release Bae. The North Korean government has not responded to Mr. Rodman's request.
Independent North Korean observer website NK News describes him as "a trained missionary who was using his China-based tour company as a platform to bring missionaries into North Korea."
NK News also reports that the Korean version of the article goes further into the details of the "propaganda materials" Bae is accused of carrying, which reportedly included a 2007 National Geographic documentary "Don't tell my mother that I am in North Korea" and a book called "1.5 billion in China and North Korea, the world's last closed nations."
The Washington Post's Max Fisher notes that naming the National Geographic documentary "would be an oddly specific and banal charge to make without some basis of truth," and offers an assessment of its content, most of which is "quite innocuous and follows the tropes of now-common North Korean tourism videos."
But there is one bit of the documentary that may have been of special interest to Bae and, potentially, to North Korea. At about 18 minutes into the video, the National Geographic filmmakers visit what they say is one of three Catholic churches in Pyongyang. And that's exactly what it appears to be.
But Mr. Fisher adds that the church in Pyongyang, well known for its hostility to religion, is likely a facade, based on reports from defectors.
One North Korean defector told the U.S. Commission on International Religious Freedom, in a report on treatment of Christians in the country, that the churches are an elaborate show. "North Korea does have Christians and Catholics. They have buildings but they are all fake," the defector said. "These groups exist to falsely show the world that North Korea has freedom of religion. But [the government] does not allow religion or [independent] religious organizations because it is worried about the possibility that Kim Jong Il's regime would be in danger [because] religion erodes society."
Though the North unleashed a torent of war threats last month, tensions have cooled down since the the US and South Korea ended their anual military exercises, reportedly taking the two Musudan intermediate-range ballistic missiles off launch-ready status and placed them back in storage, according to Night Watch, a national security newsletter. 
South Korean President Park Geun-hye is in Washington this week meeting with US President Obama and Congress. The North has described the visit as a prelude to war, as the Associated Press reports:
The summit between the two allies is "a curtain-raiser to a dangerous war to invade" the North, an unnamed spokesman for the North's Committee for the Peaceful Reunification of Korea told the official Korean Central News Agency. The committee deals with cross-border relations, which are at a low point. 
---