France intervenes to quell violence in Central African Republic
(Read article summary)
The UN-sanctioned military operation will put 1,200 troops on the ground by the weekend, and follows months of clashes in the increasingly unstable country.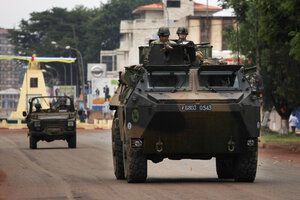 Emmanuel Braun/REUTERS
A daily roundup on terrorism and security issues.
In its second major African intervention this year, France has launched a military operation to stem violence in the Central African Republic, France's Defense Minister said today.
The operation started hours after the United Nations Security Council approved a French-sponsored resolution allowing for the use of military force to subdue ethnic violence in the landlocked African nation, Defense Minister Jean-Yves Le Drian told Radio France Internationale, according to the Associated Press.
At least 50 people were killed Thursday in fighting in the capital city of Bangui between rebels now running the country –the majority of whom are Muslim - and opposition groups who are mainly Christian, according to The Wall Street Journal. This follows months of growing clashes and lawlessness after rebel groups toppled former president François Bozizé in April.
France, which already has about 600 troops on the ground, plans on doubling its forces to 1,200 troops by this weekend. The UN resolution also approved the use of forces from MISCA, an African multinational force.
---