UN scrambles to send more peacekeepers to South Sudan amid uptick in fighting
(Read article summary)
With revenge and ethnically motivated attacks escalating, South Sudan risks turning into a failed state, experts say.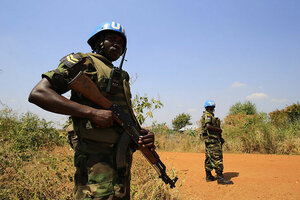 James Akena / Reuters
A daily update on terrorism and security issues.
With the world's newest country slipping further into violent chaos, the United Nations sought to bolster peacekeeping forces in South Sudan as the United States and other nations tried to evacuate foreign citizens.
The violence broke out earlier this week when a military commander defected, sparking a rebellion in Bor, a town north of the capital of Juba. Experts, however, said tensions had already been running high between ethnic Dinkas and Nuers, due to a decision by President Salva Kiir, a Dinka, to fire Vice President Riek Machar over the summer. Mr. Machar, a Nuer, has become the rallying point of an anti-government rebellion.
With growing reports of reprisal and ethnically motivated attacks, the violence threatens to escalate into full-scale civil war. Witnesses on the ground said that government security forces had executed dozens of ethnic Nuers in a region north of Juba, BBC reports.
---