Liberian war-crimes trial resumes for Taylor
(Read article summary)
The Hague boosted the defense budget for former Liberian president Charles Taylor in a signal to his supporters in Liberia and Sierra Leone that he will get a fair trial.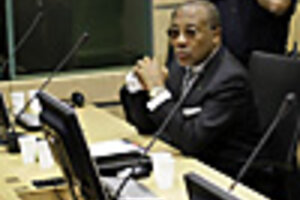 Michael Kooren/AP
The trial of former Liberian President Charles Taylor, the first African leader to face an international war crimes tribunal, resumed Monday in The Hague. His case was postponed last June after President Taylor fired his original legal team and demanded more money for his defense.
Taylor is charged with war crimes and crimes against humanity in neighboring Sierra Leone, where he is accused of arming a rebel army who supplied diamonds and timber in return. He has denied responsibility for the actions of the Revolutionary United Front (RUF), which became notorious during a decade-long war for a wave of brutal killings, rapes, and mutilations. The UN-backed Special Court for Sierra Leone was created after the war ended in 2001.
The Canadian Press says the prosecution will seek to tie Taylor to wartime atrocities committed in Sierra Leone by his proxy forces. He faces 11 charges that include murder, rape, enslavement and the conscription of child soldiers. Nearly 60 witnesses are being called on to testify on Taylor's link to the militias, most anonymously for fear of reprisals, said the Canadian Press.
The British Broadcasting Corp. says an expert on so-called "blood diamonds" from conflict zones in Africa will take the stand Monday. The trial, which is expected to run for two years, was relocated to the Dutch capital from Sierra Leone due to fears that Taylor's presence would stir unrest there.
---