More troops for Iraq and Afghanistan, Defense Department says
(Read article summary)
An Army general warns of strain on deployed troops.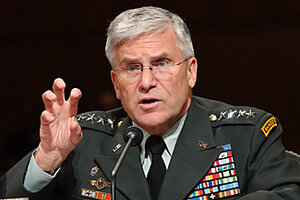 Dennis Cook/AP
The Defense Department says it needs more troops to fight in Iraq and Afghanistan. But an Army general warns that troops already in the fight are under too much strain. The warning comes as violence in Afghanistan – unlike Iraq, where violence is down - is expected to increase.
The Defense Department announced that by July 2008, it will have more troops on the ground in Iraq than when the "surge was announced last January, while troop levels in Afghanistan will be at their highest since 2001, the Associated Press reports:
Lt. Gen. Carter Ham, operations chief for the Joint Chiefs of Staff, told reporters that by July, the troop total [in Iraq] is likely to be 140,000. That compares with 132,000 when President Bush approved orders to send an additional five Army brigades to Iraq to improve security and avert civil war.
Ham also announced that the Pentagon believes U.S. force levels in Afghanistan will stand at 32,000 in late summer, up from about 28,000 currently. The current total is the highest since the war began in October 2001, and another 3,200 Marines are scheduled to deploy to Afghanistan this spring.
---