Bhutto's party meets to nominate next prime minister of Pakistan
(Read article summary)
With leadership still in limbo, parliament plans to convene later this month.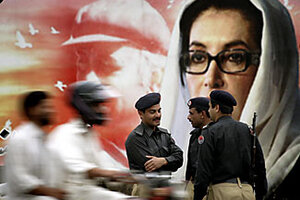 Emilio Morenatti/AP
After winning landmark parliamentary elections on Feb. 18, Pakistan People's Party met to select its nomination for the next prime minister. The PPP has vowed to form a coalition government with other opposition parties, shutting out loyalists of President Pervez Musharraf, who could face impeachment by a hostile parliament that is due to convene later this month.
On Thursday, the party failed to agree on a candidate, largely due to discord over front-runner candidate Makhdoom Amin Fahim, a stalwart Bhutto aide, reports the Agence France-Presse. He is one of four candidates whom the party is expected to nominate, reports the Associated Press.
The Bush administration is anxious to ensure that the tensions between pro-US Musharraf and his opponents don't blunt Pakistan's resolve to combat militant violence, particularly in its tribal belt along the troubled border with Afghanistan. After a lull, Pakistan has been roiled by a recent upsurge in suicide attacks. A power blackout in Karachi has also drawn attention to economic challenges facing the next government.
---