African forces invade rebel Comoros
(Read article summary)
A victory in the disintegrating Indian Ocean archipelago could affirm the African Union's international legitimacy.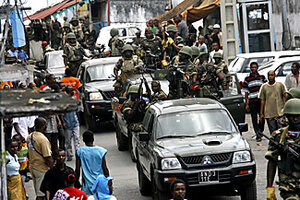 Jerome Delay/Ap
The Comoros, an unstable archipelago off the coast of East Africa, landed troops early Tuesday on the breakaway island of Anjouan to crush a year-old rebellion, one day after dropping leaflets warning the population. The government said its forces, backed by larger numbers of African Union (AU) troops, had taken control of the island's airport and main towns, and had urged rebel leader Mohamad Bacar to surrender.
A French-trained former police chief, Mr. Bacar faces federal charges of treason, usurpation of power, torture, and war crimes. Last year, he refused to step down after an election that authorities ruled illegal and has since continued to govern Anjouan as a separate state. Authorities have pledged to depose Bacar and install a transitional government to organize fresh elections for the island in May.
A victory for the AU in the tiny archipelago might offset its tattered reputation from largely ineffectual peacekeeping missions in Sudan and Somalia.
About 700,000 people live in the Coromos, an archipelago in the Indian Ocean near Madagascar. Some 300,000 reside in Anjouan, one of three main islands that make up the Coromos. The islands declared independence from France in 1975, and the country has since faced numerous problems arising from tensions between the islands and a central government.
---