Vote results delayed for fear of violence, Zimbabwe says
(Read article summary)
The country's electoral commission said releasing results from the March 29 presidential vote would be 'dangerous' as international efforts for release of poll widened.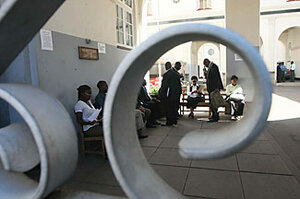 Mujahid Safodien/AP
The Zimbabwe Electoral Commission (ZEC) said Wednesday that the release of results from the country's disputed March 29 presidential election could precipitate dangerous tensions. This comes as international calls for the release of the results broadened amid growing concerns that President Robert Mugabe is trying to delay the result announcement to give him time to prepare for a probable runoff against top opposition leader Morgan Tsvangirai.
Lawyers for the ZEC hinted at escalating violence in the conflict-torn state, where a week's delay in critical election results has led to widespread fears of clashes between opposition and government supporters, reports Reuters. International human rights activists say Zimbabwe's recent history of political violence has been fostered by militias backed by Mr. Mugabe, a charge the government denies.
Mugabe's ZANU-PF party apparently lost control of Parliament, according to results released April 3. But Mugabe is disputing the results, and some electoral officials have been arrested.
---