Basque separatist arrested as Spain confronts region's future
(Read article summary)
The arrest of Francisco Javier Lopez Peña in France on Tuesday signals a wider crackdown against the ETA, which has waged a 40-year campaign of bombings.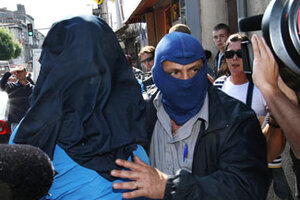 Bob Edme/AP
In a setback for one of Europe's longest-running armed independence movements, the suspected chief of the Basque separatist group ETA was arrested earlier this week.
Francisco Javier Lopez Peña, who is also known as "Thierry," was seized in a raid in Bordeaux, France, by Spanish and French police late Tuesday night. Three other ETA suspects were also captured.
The ETA – "Euskadi ta Askatasuna," or "Basque Country and Freedom" in the Basque language – has waged a violent struggle for independence for 40 years. ETA has been labeled a terrorist organization, and Spanish Prime Minister Jose Luis Rodriguez Zapatero called the arrest "another important step in the victory of democracy against terror," reports the Associated Press.
---