Indian forces clash with low-caste protesters
(Read article summary)
Paramilitary forces have deployed in Rajasthan, India, where ethnic Gujjars are demanding job quotas.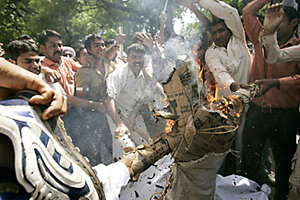 Gurinder Osan/AP
More than 35 people were killed and many more injured in a weekend of clashes between police and members of a farming caste who are demanding job quotas in the west Indian state of Rajasthan.
The Gujjars, traditionally nomadic shepherds, who are considered to low status in India's caste structure, want to be considered a "scheduled tribe," an often impoverished grouping in India that is entitled to government jobs and university places.
But a state government committee recently voted against defining Gujjars as a scheduled tribe in India's "reservation" system, as its affirmative action system is known; saying it would instead spend $67 million on improving schools, healthcare, and infrastructure in Gujjar-dominated areas.
The clashes began Friday, reports the BBC, when police fired on demonstrators, killing 15. There were some reports from other sources that protesters had lynched a policeman.
Through Friday and Saturday, police fired bullets and tear gas on demonstrators in a number of towns and villages in the state, reports the Associated Press.
These included protesters who set fire to a police station and two buses, and others who shot and wounded a policeman. During the violence, at least 70 people were hospitalized, many in the state capital of Jaipur, which was struck by a terrorist bomb attack last month.
---