Mexico drug violence intensifies
(Read article summary)
A spike in violence between rival drug gangs and police has exacerbated concern about security – and may lead to questions about a key US aid package.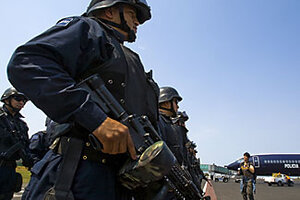 Omar Torres/AFP/NEWSCOM
As gang violence flares in Mexico and concerns rise on both sides of the border over Mexico's stability, a debate is intensifying over a Bush administration aid package to the Mexican government.
The concerns come as 10 drug-related killings were reported across Mexico last week. It's the latest episode in an alarming uptick of violence as drug cartels battle for control of the world's largest narcotics market, Agence France-Presse reports.
Ten people were found shot execution-style in 24 hours of drug-related warfare in northern Mexico, the Juarez prosecutor's office said Wednesday.
Drug cartels in Mexico have increasingly targeted policemen in various parts of the country. Seven other policemen were killed last week, as The New York Times reported.
Seven federal police officers were killed in Culiacán during a gun battle with three men working for a drug cartel, the police said.
The officers were the latest victims in a conflict between the cartels and the police that has claimed the lives of more than 30 federal agents and 170 local police officers in the last 18 months.
---