Sri Lanka bombings move toward capital
(Read article summary)
The Army has blamed Tamil Tiger separatist rebels for recent attacks, which have targeted civilians near Colombo.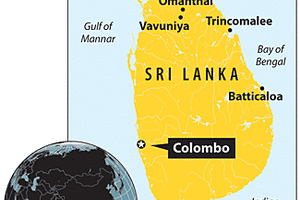 Rich Clabaugh
At least 21 people were killed and 47 more were wounded in an explosion on Friday targeting a crowded bus near Colombo, Sri Lanka. The Sri Lankan Army blamed the attack on Tamil Tiger separatists. The attack was the third in the last two weeks that has targeted civilians around the Sri Lankan capital – far from the front lines of fighting in northern Sri Lanka.
The explosion occurred when a roadside fragmentation mine detonated as the bus passed during rush hour Friday morning, reports Agence France-Presse.
Military spokesman Brigadier Udaya Nanayakkara blamed the Liberation Tigers of Tamil Eelam (LTTE). He said it was a "cowardly attack" by a "ruthless organisation."
Survivors said the bus was knocked over by the force of the explosion.
"I was standing in the middle of the bus when there was a loud noise and the whole bus toppled to the side," said 21-year-old office worker Shanika Priyadharshani while being bandaged up in hospital.
The Sri Lanka Army reports on its website that another bus was bombed Friday in the central Kandy district, about 50 miles east of Colombo, leaving one person dead and 12 injured. The report says that the alleged bomber was arrested by police.
---