Nigeria rebels declare cease-fire in oil-rich delta
(Read article summary)
Opting for dialogue, President Umaru Yar'Adua promises to address underdevelopment in the region.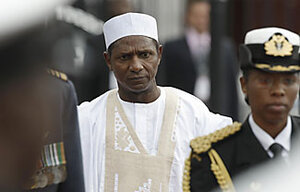 Mike Hutchings/Reuters
A rebel group in Nigeria has declared a cease-fire in the oil-rich Niger Delta, where crude exports have been curbed by pipeline sabotage and kidnappings of oil workers. The Movement for the Emancipation of the Niger Delta (MEND) said it was prepared to give dialogue a chance, paving the way for possible peace talks in a long-troubled region of Nigeria, the fourth-largest supplier of crude oil to the United States.
Last Thursday, MEND mounted an armed attack on an offshore oil rig and kidnapped an American oil worker, the latest in a string of such seizures. Most have later been released unharmed. The group says it's fighting for a fairer share of Nigeria's oil wealth for neglected delta communities, as well as reparations for pollution caused by oil extraction. Other militant groups operate in the delta, where about 20 million people live.
CNN reports that in a statement issued Sunday, MEND said it would begin its truce at midnight on Tuesday until further notice. It said its decision was in response to an appeal by "Niger Delta elders to give peace and dialogue another chance." Traditional chiefs hold great sway in parts of Nigeria. The strife in the area, which has affected American and other multinational oil companies, has cut Nigeria's crude output and contributed to higher global oil prices, according to analysts.
---