Kashmir: Mass protests force government to reverse controversial land-transfer decision
(Read article summary)
Muslims in Indian-administered Kashmir charged that the transfer was an attempt to tip the Hindu-Muslim ratio of the area in favor of Hindus. The protests have widened to support for independence.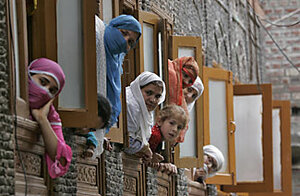 Danish Ismail/Reuters
Eight days of mass protests in Indian-administered Kashmir have prompted the region's government to reverse a controversial decision to transfer a large tract of land to a Hindu organization.
The land transfer, which was seen by some as an attempt to change the Muslim-Hindu ratio in this Muslim-majority area, sparked huge – sometimes violent – protests in the capital, Srinagar. The protests, in which four people were killed and hundreds injured, were the biggest in Kashmir for years.
The Associated Press reported on Monday that protesters had dismissed the government's claim that it would renege on transferring the land and vowed to continue with the protests.
By Sunday, the protests appeared to have evolved into pro-independence agitations.
"Our protests will continue until we achieve freedom from Indian domination," Mirwaiz Omer Farooq, head of the moderate faction All Parties Hurriyat Conference, told a crowd of protesters in Srinagar. The crowd chanted "We reject Kashmir's auction" and "We want freedom."
---