State of emergency declared in Bangkok
(Read article summary)
As the confrontation between the government and opposition escalates, the ruling party is slapped with charges of electoral fraud.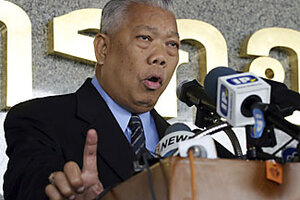 Reuters
On Tuesday, Thailand's Prime Minister Samak Sundaravej declared a state of emergency in Bangkok after clashes between government supporters and opposition party members left one person dead in the worst violence seen in the city in 16 years. The violence flared as Mr. Samak's ruling People Power Party (PPP) faced charges of electoral fraud in the courts and escalating pressure from the opposition People's Alliance for Democracy (PAD), which has been occupying the prime minister's office for the past week.
According to the BBC, fighting started early Tuesday.
Mr. Samak has stated that the state of emergency is expected to remain in effect for a brief period. Curfew has not been enforced, but the emergency prevents gatherings of more than five people and puts limitations on media coverage that may "undermine public security."
The street clashes are an escalation of an ongoing confrontation between the government and PAD protesters. Fighting is expected to intensify on Wednesday, the International Herald Tribune reports.
---