Sri Lanka claims it's closing in on Tamil Tiger stronghold
(Read article summary)
Amid fierce fighting in recent days, the military says it will soon take the rebel base and, within months, end one of Asia's longest-running conflicts.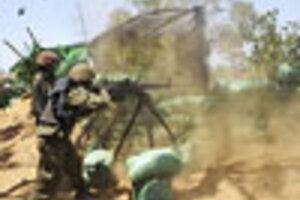 Reuters
The Sri Lankan government claims it is on the verge of wiping out the Tamil Tigers' last rebel stronghold. If it's right, Sri Lanka could at last see the end of a long-running conflict that has left some 70,000 people dead.
The claims come amid fierce fighting in and near the Tigers' base in Kilinochchi on the northern tip of the island, where government airplanes are pounding rebel positions as ground troops slowly tighten the noose.
Numerous media noted that the military's claims could not be independently verified. Both the government and the rebels often make exaggerated claims, the Associated Press (AP) noted.
A top Sri Lankan military official told the BBC Friday the government had won ground, sea, and air superiority over the rebels, and that victory was at hand.
Said Defense Secretary Gotabhaya Rajapaksa:
The Colombo Page, a Sri Lankan daily, reported that government forces had seized a key road in Kilinochchi after a fierce, seven-hour gun battle. Eighteen Tamil Tigers were killed there and in other fighting Sunday, with many more injured, the paper said.
---